Lifeboats
We offer lifeboats and rescue boats from the largest manufacturers in the world.
Lifeboats can be safely launched at full load or towed in forward direction of the vessel at 5 knots speed in calm water.
Passenger ships can be equipped with closed and partially closed boats, while cargo ships – only with closed lifeboats. Placement of partially closed type boats on passenger ships gives a great advantage in the speed of boarding during evacuation.
Features:
Solid body made of non-flammable or non-combustible material
Reserve buoyancy, allowing you to keep afloat fully filled boat with supplies and people in it. Additional buoyancy is provided by lightweight floating materials, resistant to the effects of seawater and petroleum products.
Lifeboats of the closed type are self-righting.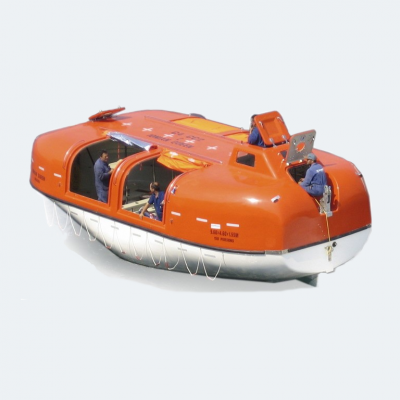 Product range
| Model | Dimensions | Capacity, pers. | Speed, knots | Weight of empty boat, kg | Weight of fully loaded boat, kg |
| --- | --- | --- | --- | --- | --- |
| NPT40R | 4.00х1.86х0.85 | 8 | 6 | 650.00 |  1310.00 |
| NPT42R | 4.70х1.68х0.85 | 6 | 6 | 500.00 | 995.00 |
| NPT43R | 4.65х1.86х0.80 | 6 | 6 | 500.00 | 995.00 |
| NPT43RA | 4.65х1.86х0.80 | 6 | 6 | 800.00 | 1295.00 |
| NPT45RB | 4.50х1.95х0.85 | 6 | 6 | 830.00 | 1325.00 |
| NPT53RA | 5.45х1.86х0.75 | 9 | 6 | 570.00 | 1312.50 |
| NPT53RB | 5.45х1.86x0.75 | 9 | 6 | 900.00 | 1642.50 |
| NPT55RFA | 5.50х2.25х0.95 | 9 | 6 | 520.00 | 1262.50 |
| NPT55RFB | 5.50х2.25х0.95 | 9 | 6 | 780.00 | 1522.50 |
| NPT53RA | 6.00х2.16х0.75 | 9 | 8-20 | 750.00 | 1492.50 |
| NPT53RB | 6.00х2.16х0.75 | 9 | 8-20 | 1050.00 | 1792.50 |
| NPT60RA | 6.00х2.30x0.87 | 15 | 8-20 | 1175.00 | 2412.50 |
| NPT60RB | 6.00х2.30х0.87 | 15 | 8-20 | 1425.00 | 2662.50 |
| NPT65RFA | 6.70х2.271.00 | 6 |  8-20 | 1100.00 | 1595.00 |
| NPT70RA | 7.50х2.25х0.95 | 15 | 8-20 | 1550.00 | 2787.50 |
| NPT70RB | 7.50х2.25х0.95 | 15 | 8-20 | 1750.00 | 2987.50 |
| NPT75RB | 7.30х3.30х1.25 | 15 | 8-20 | 2550.00 | 3787.50 |
Need this device? Contact us:
sales@morsudsnab.ru
or just call us
+7 (812) 622-0324