Davits
Davits are designed for storing and safe launching of lifeboat, life raft or rescue boat to water.
Davits provide a safe launching from the vessel of life crafts with their full equipment at trim up to 10° and roll up to 20° on any side (on oil tankers, chemical tankers and gas carriers, these values for lifeboats may be greater).
Launching time of life craft with people and supplies does not exceed 30 minutes.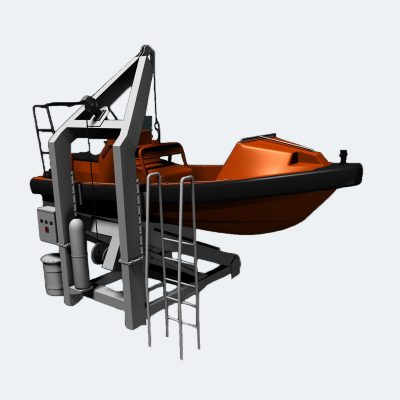 Product range
| Type | Maximum lifting capacity,kN | Type of boat |
| --- | --- | --- |
| NPT85DP | 90 | NPT75F |
| NPT/PL110 | 110 | NPT85F |
| NPT138DP | 140 | NPT85F-SC93F |
| NPT185DP | 185 | NPT95F |
| NPT200DP | 205 | NPT150F |
| NPT60DL | 60 | NPT50-60F-C |
| NPT85DL | 90 | NPT75F-C |
| NPT138DL | 138 | NPT85F-C-SC93F-C |
| NPT170DL | 180 | NPT95F-C |
| PT200DL | 205 | NPT150F-C |
Need this device? Contact us:
sales@morsudsnab.ru
or just call us
+7 (812) 622-0324